Logos 2015
This is just some of the logos that I got to work on the year of 2015.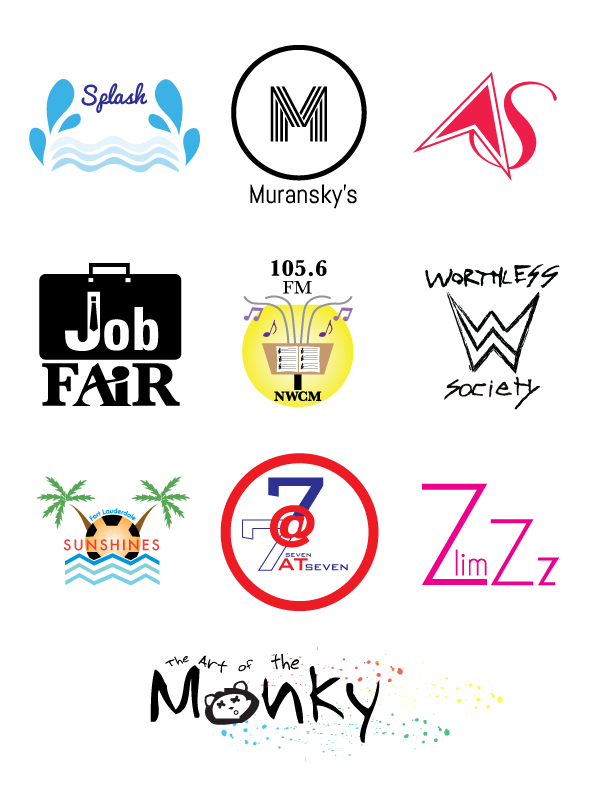 Starting from top left
1. Splash
Logo for a fashion show in Fort Lauderdale, FL. The client did not give much information about the project. Fashion show, ocean related and it would be titled "SPLASH"
2. Muransky's
Client wanted his last name with a touch of old school broadway signage. He is really into standup comedy and loves performance art.
3. AS Designs 2015 logo (Personal)
I decided to create a logo that tells more my transition from print design to user interface design. I am currently working a lot designing layouts for web and apps. By learning how to prototype, I am approaching more clients. I decided to go with an A (Alberto) as a cursor and represent the S (Silva) as the flow. My personal design style is crazy and with a lot of movement. My logo represents me perfect.
4. Art Institute Job Fair
Student life wanted students to create a logo for the student fair. This is what I came up with. I did not win, however, I did very good feedback from some teachers.
5. Classical Radio Logo
Logo created for a class project. I am very happy with the outcome. It was a bit hard to represent classical music with shapes.
6. Worthless Society
Logo created for a hard rock/metal band. They wanted something edgy and handwritten like.
7. Fort Lauderdale SUNSHINES
School project to create a logo for a soccer team. I decided to do a soccer team for the city I leave in (Fort Lauderdale). I chose palm trees and the ocean to represent my team. When I think of Fort Lauderdale it comes to my mind post cards where all you see is the beach and palm trees with the ocean in the background.
8. 7@7 = Seven at Seven
School project where I had to create a package design for some juice. My product gives you 700 calories to start the day with plenty of energy. You should take this when you wake up so, I decided to put Seven at Seven because the consumer gets 700 calories at 7 am ( morning ).
9. Zlimzz
School project for package design. I created a product that helps you lose weight while you sleep. Get it? Zlimzz
9. The Art of The Monky (personal)
I decided to create a logo for my artist website.